CHALE WOTE 2020 – Festival
The CHALE WOTE Street Art Festival is an alternative platform that brings art, music, dance and performance out of the galleries and onto the streets of James Town, Accra (Ghana).
The first festival took place in July 2011, following a series of discussions about creating DIY [do-­it‑yourself] community projects by participants at our Talk Party Series. Our partners for the festival include Redd Kat Pictures, Dandano, Mumble, Chaka Orleans Heritage and Gamashie Development Agency.
The vision is to cultivate a wider audience for the arts in West Africa by breaking creative boundaries and using art as a viable form to rejuvenate public spaces. The CHALE WOTE Street Art Festival challenges both artists and community-­based audiences to connect through art.
The festival includes street painting, graffiti murals, photo exhibitions, interactive installations, a food and fashion marketplace, live street performances, extreme sports, African Cinema pavilion, street boxing, a fashion parade, a music block party, design labs and much more.
More than 200 Ghana-based and international artists take part in the event every year.
Culture is a critical motor of sustainable development for the continent.
Emerging artists provide a fresh lens on the state of Africa through film, music, fashion, design and performing arts.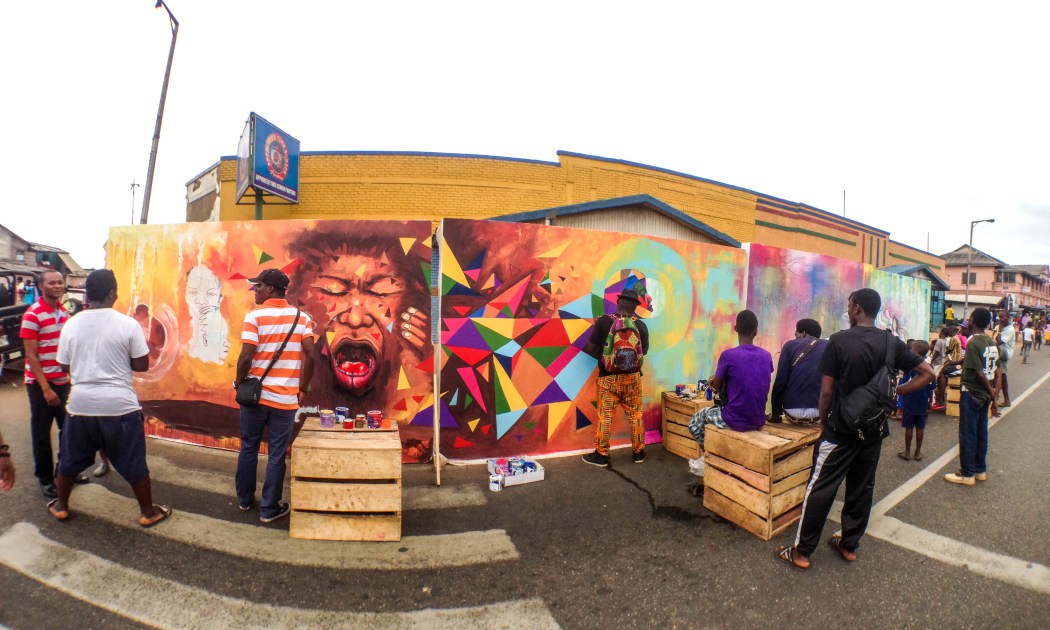 Therefore, the festival articulate an alternative vision of Africa by a creative and eclectic corps of young people.
These social engineers are also invested in transforming their communities by creating imaginative solutions to the problems of poverty, unemployment, and miseducation.
They can showcase work locally and internationally through social media, and make a livable wage from the sale of their crafts
Chale Wote also provides a cultural renaissance in Ghana by collaborating with like-minded organizations on program activities, including performances, talks, workshops, artist residencies, exhibitions, film screenings and more.
For more information, check out the Chale Wote website or an impression of the 2019 editon here!